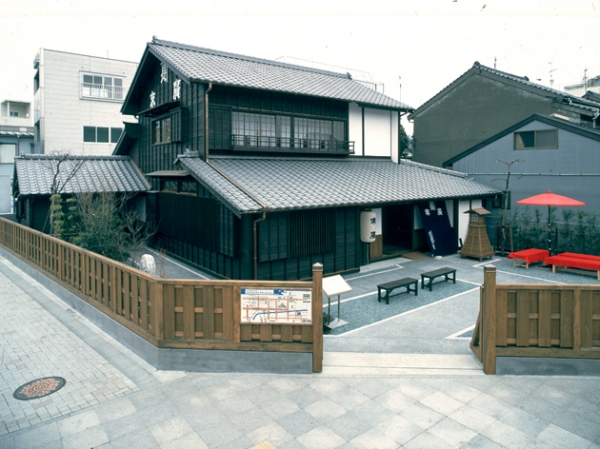 The Shimizu Port Shipping Agent Memorial House

Shimizu Minato Funayado Kinenkan Suehiro
At the shipping agent of "Suehiro," one can take in the sight of the later years of Shimizu no Jirochō's endeavors to revive Shimizu Port. It is an invaluable building that transmits to present day the state of Jirochō and Shimizu Port, which ran on from the Bakumatsu years to the Meiji period.

【Jirochō and Suehiro from the Meiji Era】
Before the Meiji Restoration, Jirochō was active as the leading figure of the chivalrous spirit of "helping the weak, crushing the strong." He featured in stories, naniwabushi ballads, novels, films etc., and was famous as a hero among popular culture.
With the Meiji Restoration as a turning point, Jirochō underwent a 180 degree change as a social worker. Through respectfully burying the victims of "Kairinmaru," a warship of the former shogunate from the first year of the Meiji Era, he met Yamaoka Tesshū. Influenced by him, he strove to develop Shimizu Port through cultivating the skirts of Mt. Fuji and exporting tea.
In his later years, he managed the shipping agent Suehiro, which was visited by people he became close to such as Takeo Hirose and Ogasawara Naganari who fought in the Russo-Japanese War, and the artist Tomioka Tessai.
Jirochō was admired by children as "the old man on the wharf" and his thrilling life came to a close when he was 74 years of age.
All of the staff await your visit.
Address
#424-0943 〒424-0943 Shizuoka, Shimizu Ward, Minatochō 1-2-14
Telephone number
054-351-6070
Facsimile number
054-351-6070
Home page
http://www.city.shizuoka.jp/000_007146.html
Fee
Adult: Free
Child: Free

Fee (discounts)
Adults: Free
Children: Free
Hours open
Tuesday Wednesday Thursday Friday Saturday Sunday 10:00 - 18:00
10:00 a.m. to 6:00 p.m. on Tuesdays, Wednesdays, Thursdays, Fridays, Saturdays and Sundays
Regular holiday
Monday, New Years
Mondays, New Year's Holiday Season
If the Monday is a national holiday, then it will be closed on the next day that is not a holiday
Transportation
Board the
20 minutes away from Shimizu Inter Change of Tomei express way

Disabled
Bathrooms with disability access
Disabled Toilets