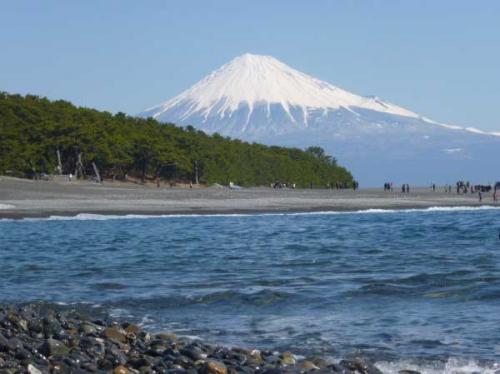 Miho-no-Matsubara

mihonomatubara
Miho-no-Matsubara was registered as a part of Mt. Fuji's world heritage site in June of 2013. There are over thirty-thousand pine trees growing on the Miho-no-Matsubara's 7km beach. The green pine forest, the white waves, and the blue ocean, along with Mt. Fuji, has been expressed through various drawings such as Hiroshige Utagawa's ukiyoe, as well as waka poems.
The Hagoromo-no-Matsu, known for it's celestial maiden legend, is in one of the corners of Miho-no-Matsubara. The Miho Hagoromo Takigi Noh, a noh theater performed at night by the fire devoted to the Miho Hagoromo, is held every October in front of the pine.
There is the "Miho Navi" the Miho guidance facility nearby, and has an exhibition of the deep relationship between Mt. Fuji and Miho-no-Matsubara. Miho Navi also offers tourism information, as well as tours.
The Miho shrine is part of the UNESCO World Heritage, and has nearby the Miho Shrine which is also popular as a power spot, as well as the "Kami no Michi (God's Road)", a passage of Tokoyo-no-Kami (Gods of Tokoyo), and will make you feel refreshed if you walk there.
The bicycle road is also paved, so going around the Miho peninsula on a rented bike is suggested.
Address
#424-0901 Miho, Shimizu-ku, Shizuoka-shi
Fee
Adult: Free
Child: Free

Hours open
9:00 - 16:30

Regular holiday
No holiday

Estimated time required
60 minutes
Parking
Standard-sized car: 173 cars

Transportation
Go from JR Shizuoka station to JR Shimizu station by bus "Miho Yamanote line" for about 25 minutes to "Miho-no-Matsubara Iriguchi", and walk for about 20 minutes.
About 30 minutes by car from Tomei Expressway Shimizu Interchange