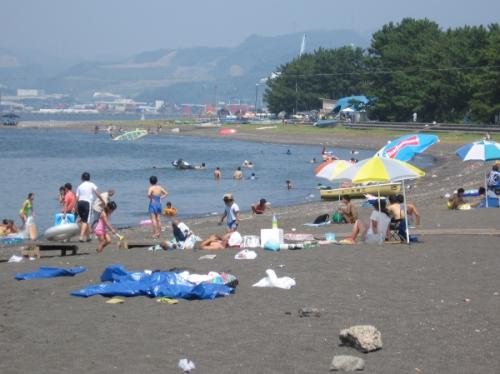 Miho Uchihama Swimming Beach

mihouchihamakaisuiyokujyo
The Miho Uchihama Swimming Beach is located in the Miho peninsula inner sea, south of the S-Pulse Dream Ferry Sightseeing ship dock. The waves are relatively calm, and on the other side is the Shimizu harbor. If you are lucky you may be able to see a luxury cruise come your way while going for a dip. The swimming areas are shown by buoys. It is dangerous, so please stay within the swimming area. Also, water bikes are not allowed inside the swimming areas.
Address
#424-0901 Miho, Shimizu-ku, Shizuoka-shi
Hours open
9:00 - 17:00
Duration: From middle of July to late August
Opening hours: From 9AM to 5PM
Lifeguards: Yes
Parking Space: Yes
Beach hut: No
Shopping Stand: No
Full bloom stage
Summer

Transportation
Ride the ShizuTetsu Justline "Miho Yamanote line" from JR Shimizu Station to Miho Aquarium. The ride will take about 28 minutes. 3 minutes by foot from the bus station.
About 12.3km (about 25 minutes) by car from Tomei Expressway Shimizu Interchange.